Lets face it, the Index on phpbb is boring and almost completely non-functional. It has been host to some of the worst ideas ever to hit phpbb - including putting the login bar at the very BOTTOM of the page.
It's almost like the designers of Phpbb have something against the most important tenant of web design - that the user shouldn't have to click though a pile of almost blank pages to get to where they want to go. To expand the functionality of the index page, I suggest we make it a 'portal' page. Portal mods are an interesting concept, but, again, they suffer from a big fault in that they add an extra page you don't need. My suggestion is that we turn the index into a modular portal but without the extra page, like this: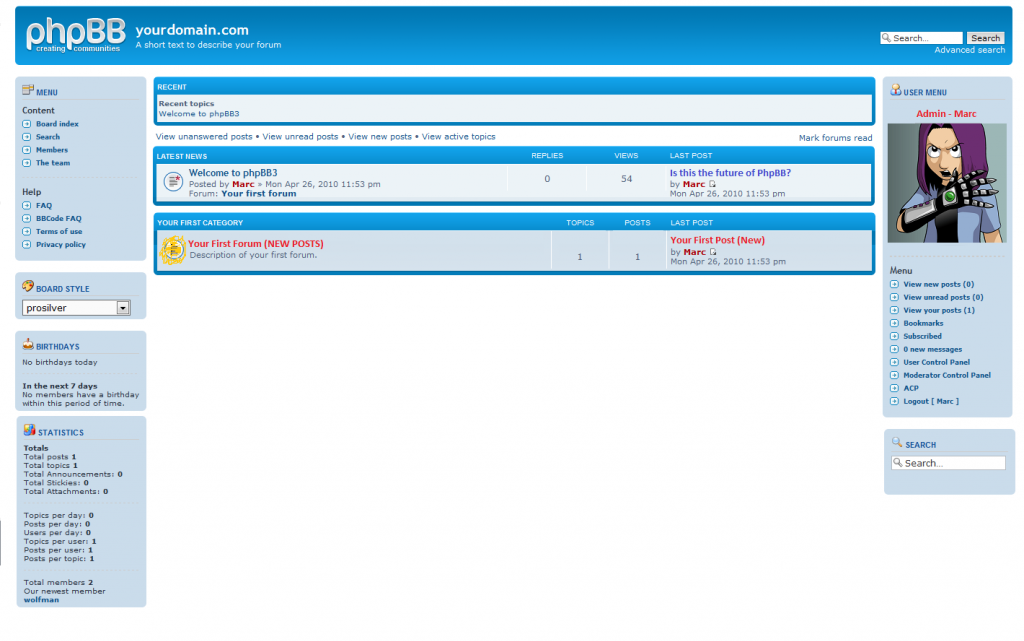 Some Suggestions:
The user should really be able to see almost everything important that is going on from the front page and go there right away with no hassle. As much of it as possible should be updated dynamically, with an option to turn this off. Clicking on the avatar should take you to a preview of your profile page. Logging out should turn the avatar into a login box.
The user should have to click through the absolute minimum amount of stuff to get to what they want. This means no login page - the user gets taken right back to the index.
Forums should have three 'new post' states: Totally New. Unread. and Read. Totally New should highlight the whole forum bar and generally make it more noticeable. Totally new would wear off after you view the forum. Unread would highlight just the forum name, icon, and the topic name (see right hand bar on image). Read looks as normal. Clicking anywhere on the forum box should take you directly to the forum.
Ideally the Forum index's 'Latest posts' box should show the last three posts in a list.
There really should be a shoutbox by default that can be turned off but this isn't totally necessary, it just really, really, helps build comunities. It should archive and filter all messages.
The forum header should be turned into a neat sidebar, at the moment it looks like a mess and it is hard to see what is clickable and what isn't. For preference, everything should have a small icon (or be an icon).
Accessibility options such as text size need to be visible enough for people with sight problems to be able to easily find them.
Stuff that really isn't necessary (like in-forum bookmarks) should be stripped out.
So what does everyone think?