I'm not sure if I am in the right place, but I have some stuff I really want to get out in the open. This stuff is all based on complaints I have had from actual users to do with the basic way in which Phpbb functions. (Don't get me wrong, I like phpbb.) This is my beef:
Posting is too convoluted:
I'm really not sure why but Phpbb seems to regard 'quick reply' as being this really 'out there' concept.
Posting should be the absolute easiest thing to do on your forum. Making posting harder or take longer makes users less likely to post. Let me show you roughly what I think quick reply should look like. Please note that this is a very quick and rough photoshop job. The bbcode bar is real, however. I know this can be done because I've seen it several times: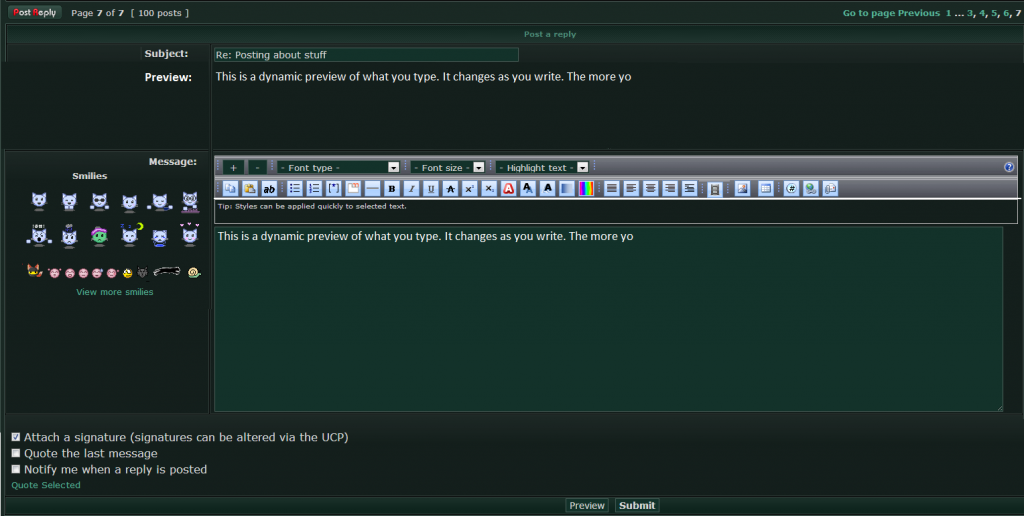 Suggestions:
Make quick reply the DEFAULT method of replying. The quick reply box should just sit at the bottom of the thread and come with a complete range of text editing options in a button-based format. Only BBcode that is installed without an icon should look like the BBcode ins standard phpbb.
You should NOT have to press ANY buttons to get a quick reply box and it should not just be a blank box with a submit button. Quick reply should be enabled by default. I can't stress this enough, not having a proper quick-reply is extremely backwards design that frustrates both users and admins. Quick reply should include ALL the tools of regular reply.
Give an active preview option that updates as you type. A huge number of modern forums already have this.
When you click submit you should IMMEDIATELY be taken to your new post. You should NOT have to put up with a timed detour. Users know what is supposed to happen when they press submit!
New posts added by other users should also be dynamic. Add a box at the bottom of the thread that shows the number of new posts that the user can click to show them without refreshing the whole page. The closer PHpbb can get to working like instant chat the easier it will be to get new forums running and keep them running.
The user profile menu is a total mess:
Put simply, the number one complaint my users have about PHPBB is the brain-crushingly over-complicated and unfriendly interface.
Especially the user menu. It needs to have a clear out! Let me show you what the user profile section on my site looks like AFTER I deleted a couple of pages that did nothing but confuse people more. Categories have been expanded:
You'll notice that it is a total freaking maze for new users. And that is before you add mods. New users take one look at this mess and give up. The main problem is that every single one of these categories could be trimmed down to one or two pages. Setting it all up like this is totally unnecessary and only really works in the tabbed version of prosilver.
Suggestions:
Clean this monster out! Do we really need a forum bookmarking function as well as subscriptions? I had no idea that was even in there and I own the place!
Create a prosilver-style master user profile page for subsilver. Merge similar functions and pages to make it as simple and easy as possible. Put all account preferences on one page with clearly labeled headers. For example, put avatar and signature on one page and put account settings on the same page as profile settings.
You should NOT have to add friends and foes via the user profile. Make it a button you can click under their avatar, as per the mod.
Ditch the 'Important announcements' bar completely. If it were that important it would be somewhere people would see it! A good replacement would be a collapsible text box that appears at the top of the Index (and only the index).
Ditch bookmarks, if they didn't bookmark it in their browser they probably subscribed to it.
The front page should be a preview of your profile as others see it, or it should be compacted or merged somehow. Even if this is not done the 'front page' and 'subscriptions' modules can be very neatly moved to 'Profile' and the rest of the overview category done away with completely. If you really want the 'drafts' function can go there as well but really it should be tacked on to another page and restricted to topic drafts only.
Basically everything in 'Board settings' can be broken up and merged into other stuff. What's left should fill one page with different categories - two tops.
The primary argument against these things is that it would make the profile pages denser and more complicated. But while it would make them longer it would reduce the frustrating clicking and searching that takes up most of the time you spend in the profile. By making everything clear and concise and trimming and merging all redundant options the menu can be made to be a much more friendly place. This goes for the admin control panel too. Which brings me to my final point.
The index should do most of this stuff by default and should be completely modular.