Search found 1063 matches
by callumacrae

Mon Oct 26, 2015 9:04 pm
Forum: [3.x] Discussion
Topic: [Define New Theme] 8. Utilize Font Awesome icons where icons are needed to simplify server requests.
Replies: 119
Views: 234917
To further demonstrate what people with dyslexia who replace the font see: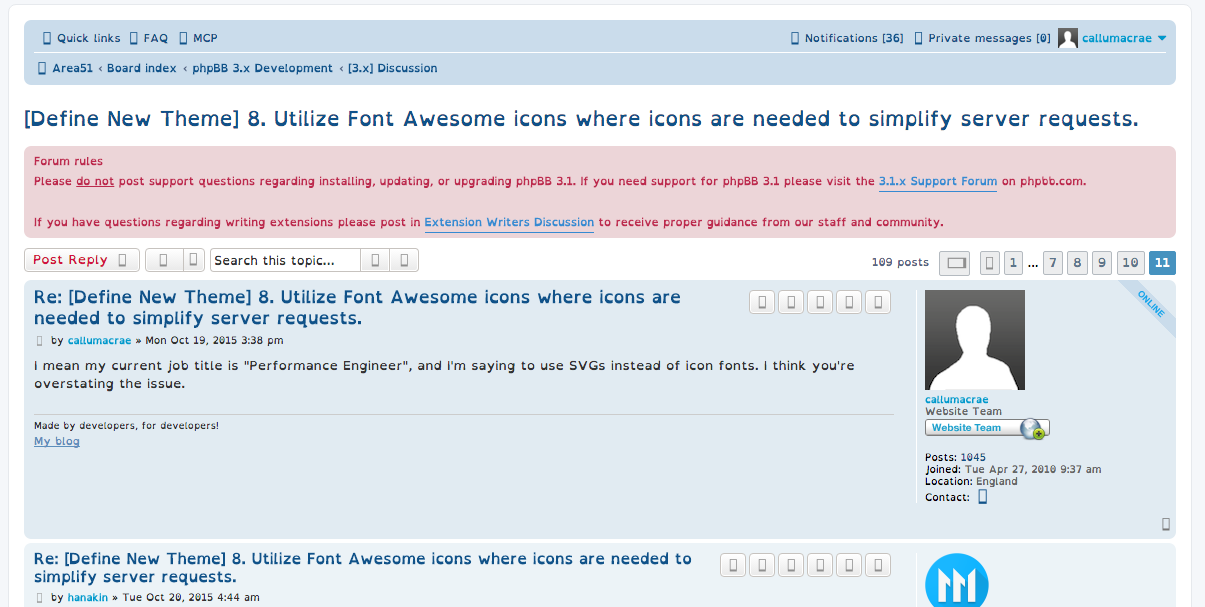 One in ten people have dyslexia.
by callumacrae

Thu Oct 22, 2015 10:28 pm
Forum: [3.x] Style Development
Replies: 98
Views: 213620
Its important to look @ browser stats and see whats being used the most :) (IE,firefox,etc) We don't have access to that data. We have access to the browser data on phpbb.com and area51.phpbb.com, but due to its nature, it's not exactly typical usage. It should be assumed that browser data is on pa...
by callumacrae

Wed Oct 07, 2015 9:09 am
Forum: [3.x] Rejected RFCs
Replies: 75
Views: 159519
We, and really most everyone else that wants to keep their sanity, do not support IE6 so if subsilver2 appears broken or inoperable in that browser, the developers won't be spending any time in trying to correct those issues. Plus subsilver2 is no more in 3.2. Hmmm you mean they got rid of it total...